Members of the MD2K team have participated recently in high-level academic and industry conferences on health, sharing information about how mobile health data can be used to further precision medicine.
Dr. Kevin Patrick, Dr. Ida Sim and MD2K director Dr. Santosh Kumar each gave talks on mHealth in different venues in the past week.
On Monday (October 5), Dr. Kevin Patrick, who is part of the MD2K Thrust 1 Team (Sensor Data to Information), participated in a panel discussion at the Health 2.0 Fall Conference, which showcases new healthcare technology. It was held in Santa Clara, Cal.
Dr. Patrick was part of a panel on the "Health Data Exploration Project – Personal Data for the Public Good." The Health Data Exploration Project is a separate research effort from MD2K. It is funded by the Robert Wood Johnson Foundation and conducts research on the use of personal health data in health research. Dr. Patrick is a professor in the department of Family and Preventive Medicine at the University of California-San Diego and Director of the Calit2 Center for Wireless and Population Health Systems.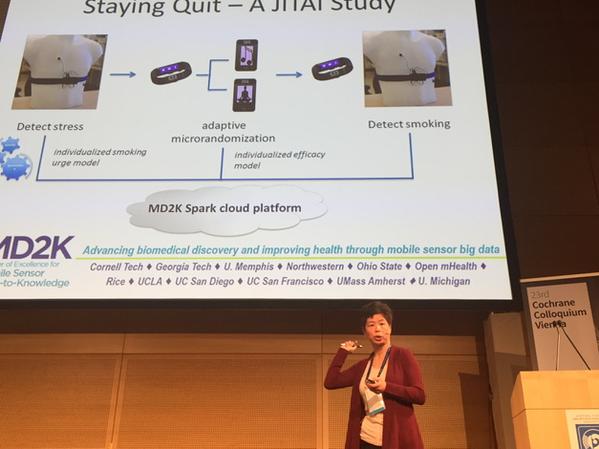 Dr. Sim, who leads MD2K's Consortium team, delivered the 3rd Annual Cochrane Lecture in Vienna, Austria, on Sunday (October 4). The lecture, on the future of evidence-based medicine in a fast-paced, personalized data-dense world, was the keynote of 2015 Cochrane Colloquium. The annual event draws about 1,500 people who gather to discuss and promote evidence-informed health care. A recording of Dr. Sim's talk can be found here.
Dr. Sim is a professor of medicine and co-director of Biomedical Informatics at the University of California, San Francisco's Clinical and Translational Sciences Institute. She is also a co-founder of Open mHealth, a non-profit dedicated to improving mobile health app and data integration through an open software architecture.
Dr. Kumar was on the faculty of "Transforming Medicine: Evidence-Driven mHealth," presented by the Scripps Translational Science Institute. His talk on Friday (October 2) addressed the "Perils and Promise of mHealth Big Data."
The first Scripps Health Digital Medicine Conference and was held to advance the discussion of the role of mobile health and how to achieve its potential to transform and improve health care.
The Scripps Translational Institute was founded in 2006 by Scripps Health to develop programs that connect science and medicine and academia and industry, with a goal of replacing the status-quo form of medicine with one that focuses on individualized treatment based on genetic information and the latest technology.
Dr. Kumar is the Lillian and Morrie Moss Chair of Excellence Professor in the Department of Computer Science at the University of Memphis.